Keisha's Guide to Beyoncé Pick-Me-Ups
After my diagnosis in graduate school, it took a little while for me to come back into myself. I'd been a quarter of the way through my life when I started getting strange symptoms and discomfort. When the doctors first shared, I experienced a myriad of emotions. I was filled with questions – lots of 'what ifs?' and 'what nows?' I worried about my life and how it would change in the weeks, months and years to come. I considered that it was certainly possible that the doctors could have had it all wrong. I came up with pretty much every excuse in the book. But then, I felt a little twang of relief – now having something identifiable to go alongside the symptoms I'd been managing for some time before.
After a while, I realized that most amazing thing to date. And let me tell you – it was a true GAME CHANGER.
You ready for it?
I have muscular dystrophy, but I am not muscular dystrophy.
It may sound a little crazy to say, but it's true. For a while, my diagnosis felt like not only an identifier but my whole identity. My life had to change drastically around it: my daily routines, my travel plans (I couldn't walk as much anymore and I had to stop driving), some level of my independence, my schedule (hello, tons of doctors'appointments!). I fell into that trap of thinking that MD was all of who I was.
You may see me zipping away in my wheelchair or getting around town with a slight "pimp walk" (see my last post!)but it doesn't even begin to define who I am.
But the nitty gritty truth of it is: I'm still very much who I was destined to be with or without a diagnosis.
I'm still the go-getter I always was. I just exchanged a life of visual merchandising for top brands and storesfor an amazing journey of entrepreneurship and empowerment with Girls Chronically Rock. (Even better! With my GCR line I still get to get my hands dirty with the merchandising. I absolutely love it!)
I'm still the fabulously bubbly woman I've always been. And I get the chance to showcase my smile and style even more with fun photoshoots.
I'm still the fashionista that everyone has known me to be. Fun t-shirts and bold pairings have always been may favorite. Now, I can rock my own line, make a statement and still flash my fabulous style!
I'm still the friend I always was. Nothing has stopped me from hitting the town with my girlfriends. This process has even blessed me with a whole selection of new friends to enjoy as well.
I'm still the lover of food I was before the diagnosis. I promise, I can still throw down on delicious pizza and a side of buffalo chicken wings.
And, 100%, I'm still A BEYONCE FAN. I don't care what happens, Bey always has something to match my mood – which makes perfect sense considering that we're both Virgos. (Her birthday is only one day before mine!) I've been a big fan since her Destiny Child days, every new single gets me excited all the same. I feel like we're connected forever!
Life is full of ups, downs, and things that seem to flip your world upside down. That's true for everybody. But as for me and my house, Beyoncé's music gives that special something to at least help fix just about any foul mood that may or may not come my way.
I wanted to share some of my go-to Beyoncé faves with you!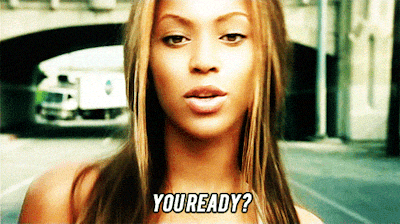 When you're getting ready to have a great night out with your girls…
"You a bad girl, and your friends bad too (ooh!). We got the swag sauce, she dripping swagu (ohh!)" Oh yes! When I go out on the town, this is my reminder that my girls and I are fine, fierce and fun. This is most definitely a bop for us!
If you've had the chance to hear the original version, Bey also shares this empowering sentiment at the end of the song that really speaks to me:
"As a black woman, I used to feel like the world wanted me to stay in my little box. And black women often feel underestimated. I wanted us to be proud of not only the show, but the process…"
I won't leave it all here, but you can enjoy the rest by searching it on YouTube!
If you've ever been on the dance floor and this song game on, you know how much energy it brings. Beyoncé gives you voguing, a workout of pop-dance moves and a chance to "pose for the camera, now click, click, click. This is just the song to move, groove and have a great time in lots of laughter with your friends, family, boo-thing – whoever happens to be cutting it up with you on the floor at that time.
I don't know if it's the video – which features Beyoncé and "friends" dancing around like college besties, but this song just screams fun to me. There's not much substance in this song, but a collage of silliness and lightheartedness – and sometimes that's all we need in life: to let go and have a damn good time!
Okay, I will never "poo poo" the original "Before I Let Go" by Frankie Beverly and Maze because that has been a cookout and family reunion staple for years. And I fully believe that it will continue to be. But my girl's remix to it on her 2019 Netflix special, Homecoming gives it a little bit of modern sparkle that really gets me going! I love it!
When you're feeling confident and sex
y (or if you need a little bit of music to help you feel that
way) …
You ever just look in the mirror and have to come back and do a double take because you just look that good? Give this song a listen and affirm yourself. Throw on whatever make you feel sexy and rock out in the mirror. It works for me!
One of the best feelings in the world is waking up and knowing that you are the most beautiful woman alive. I love jamming out to Flawless and belting out the lyrics "I woke up like this, I woke up like this FLAWLESS! Said, I – look so good toniiiiight. God damn, God damn!"
This song hit the radio shortly after the live action version of the Lion King dropped earlier this year. It's a fun song that reminds me of all the beauty and regality that my melanin has to offer.
When you just need a reminder that you're "the stuff"and whoever and whatever you encounter, you upgrade – this is the song for you!
When you've fallen for someone special (even if that special someone is yourself)...
Honestly, I don't think I've met one person who doesn't love this song. The video, which features a very in-love, very impregnated Beyoncé is full of smiles and Bey's voice that modulates over and over again. It's slightly comical trying to keep up with all her pitch changes.
How pretty is this song? When it was first released on Tidal, I couldn't get enough of it – Thank God it's now on Spotify and Apple Music, too. It's equal parts, love, family and tenderness – a great edition to the Lemonade album.
These lyrics speak for themselves…
"Head down, as I watch my feet take turns hitting the ground
Eyes shut, I find myself in love racing the earth
And I'm soaked in your love, aah
And love was right in my path, in my grasp
And me and you belong"
When someone *tries* to hurt your feelings and you remember that you are a BOSS and too blessed too be stressed

…
In "Ring the Alarm," "Sorry" and "Don't Hurt Yourself"Beyoncé let us know that when someone messes up – she – we, are not forces to be reckoned with. Someone you're dating may stress you out, that co-worker may cross the line. I can crank up either one of these songs to get all that energy out and remind myself that I'm not a doormat, a punching bag or beneath anyone.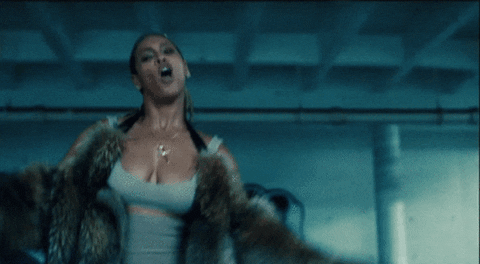 When you need a pick

-

me

-

up after a rough day

…
Even though this isn't exclusively a Beyoncé song, her former girl group from the '90s sang this song of support. One of the members was going through arough time and the other members came together to support, encourage and love on her and sometimes we really need that.
By this time, the girl group was not longer, but Beyoncé, Kelly and Michelle got together for this one to acknowledge the power of God's "yes!"
Sometimes "when Jesus says 'yes', nobody can say 'no'! is all you need to hear.
When you just want to dance it out
…
Whether it's been a very sedentary day or an overly busy and stressful day, sometimes the answer is to just hit a dance move – or ten. Here are some of my faves to rock out to:



 

 
When you

feel like singing on the top of your lungs

…
And other times, it's more beneficial to hit those notes – or at least try your best to do so.

 
 
Ego

(

Beyoncé

and Kanye West)


 
While this post was fun to create, here's what I want you to take from it the most: You are NOT your diagnosis. You chronically rock, with or without a chronic illness. Before and after. ALWAYS. But on those days, where you're not feeling so hot – keep that arsenal of songs from your favorite artist in your back pocket to lift your spirits and get you grooving!
Now that you know mine, what are yours? Who's is your favorite artist? What songs boost your moods when you're feeling low? Let me know in the comments!
*All lyric excerpts provided by LyricsFind.com.