Boston Voyager Feature on Keisha Greaves
Today we'd like to introduce you to Keisha Greaves.
Keisha, let's start with your story. We'd love to hear how you got started and how the journey has been so far.
Girls Chronically Rock was inspired by myself because I was diagnosed with Muscular Dystrophy around 2010 while I was graduate school receiving my Master's in Business.
I started to get really weird symptoms like repeatedly falling, my leg would just buckle and give out on me and next thing you know I would be on the floor.
I knew something was not right so I went to get a further evaluation by a Neurologist and did multiple different testings and that's when I officially diagnosed with Limb-Girdle Muscular Dystrophy.
Limb-girdle muscular dystrophy (LGMD) is a diverse group of disorders with many subtypes categorized by disease gene and inheritance.
LGMD usually manifests in the proximal muscles around the hips and shoulders. (The proximal muscles are those closest to the center of the body; distal muscles are farther away from the center for example, in the hands and feet).
Fast forward a few years, I knew I still had my passion for fashion since I did receive my Bachelor's degree in Fashion Design and Merchandising. from Framingham State University.
That is when I wanted to create a t-shirt line that helped inspire and motivate people who may be battling a chronic illness, or just going through anything at the moment, that you rock and you can do anything and accomplish anything you want to.
I also love graphic tees and always purchasing different ones online, so I figured why not create a t-shirt for myself and for others who would love it.
Where I am right now in my business, it is still a new business and has been just been about a little over a year, and I am learning new things every day. I am still learning what customers like, compared to what they may not like.
I am at a point right now where I have been reaching out to different department stores such as Target, Macy's and local boutique stores in my area to see if they would possibly consider selling my line in their stores.
I a finding out different ways to approach them, and the best format, which I have been getting some great tips and ideas from Boston Business Women network on Facebook, I love that group.
Once I first diagnosed, I felt like my world was over and I did not want to talk about it to anyone and I was in total denial and making up other reasons as to why I walk the way I do instead of saying I have Muscular Dystrophy.
I am now bringing so much awareness with Muscular Dystrophy and I am also now the Massachusetts State Ambassador for the Muscular Dystrophy and I feel bringing awareness about my disease, I can also discuss and talk about my t-shirt line Girls Chronically Rock and how it was inspired and 10% of the proceeds each month goes towards the Muscular Dystrophy Association,
Has it been a smooth road?
Running your business I feel can never be a smooth road. I am still learning new aspects of the business each day with finding out what customers like and what they don't like.
Making sure everything is very detailed in the description to make sure customers understand what quality they are getting. One struggle right now for me is not making the number of sales I would like to each month, but I know it takes time and my business is still new and its all about posting on social media and making sure I am posting each and every day regarding my business and telling my story.
Another struggle right now is trying to get the attention of local boutique stores and department stores. I email major department stores on a daily basis and I am always tagging stores on my social media to make sure they can see my t-shirt line and what it's about.
Although I may face this struggles, I know eventually I will overcome them, and some stores may eventually be interested in selling my line at their store and I will also begin to bring in the revenue I would like.
I know it takes time for new businesses, but I will continue to be positive and continue to work hard to get my brand out there and will be successful.
So, as you know, we're impressed with Girls Chronically Rock – tell our readers more, for example what you're most proud of as a company and what sets you apart from others.
I currently own a t-shirt line called Girls Chronically Rock. My line consists of many different designs/logos that has inspirational quotes, funny ones and just something to help encourage and motivate individuals who have a chronic illness or just dealing with something in their life.
I am the main owner of my business and handle everything myself with shipping and reaching out to customers and handling my social media. I work with a woman who has her own t-shirt printing business who prints my t-shirts for me in Cambridge and her and I have built a great relationship overtime.
I also have a graphic designer I found on a business network, which I know love and she creates my different designs for me. I tell her exactly what I want it to say, colors and look and put my vision to life. I would say I specialize in creativity, uniqueness, being bold and trying to create something different since I always created myself as different.
I am known for being different, always changing my hairstyles and my colors and coordinating unique outfits together. When I was in college at Framingham State University, one of my teachers told me" I never know what your going to look like, what your hair is going to look like, the style, the color, I look forward to it" those were her words and I just laughed and thought wow I would you never know who is really paying attention because she sees lots of students each day.
With having a disability, I have been thinking about coming out with an adaptive clothing line which will be for people with disabilities, which will also fall under my same business of Girls Chronically Rock.
Let's touch on your thoughts about our city – what do you like the most and least?
I love our city because I feel a lot of entrepreneurs are on the horizon and although Boston is not very well known for their fashion, Boston is grown tremendously and they are so many Fashion Designers in Boston that have great talents and great connections.
I have made some great connections and met with a lot of people in the Fashion Industry who have connected me to some amazing people and have given me some great ideas/tips on my t-shirt line business. I really feel like the different Boston network groups I am apart of really have helped me along the way.
Least about our city is people always feel Boston is just known for the little things but not for Fashion and when you say you're from Boston, I feel like I don't get that same exciting reaction others do when they say they are from New York or Los Angeles. I wish Boston was maybe known for our Fashion and entertaining nightlife.
I am building my business in an awesome city where I was born and raised and I hope in the near future once my business becomes successful, they will Keisha Greaves owner of "Girls Chronically Rock", from Cambridge, MA.
Pricing:
Each month 10% percent of the proceeds goes towards the Muscular Dystrophy.
Contact Info:
Address: Cambridge, MA 02139
Phone: 617-888-0561
Email: girlschronicallyrock@gmail.com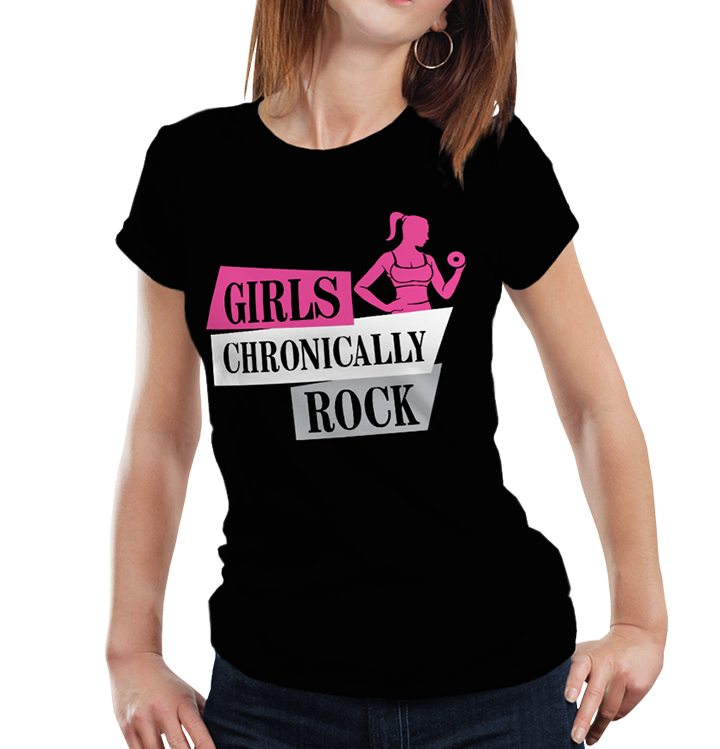 http://bostonvoyager.com/interview/meet-girls-chronically-rock-cambridge-ma/